Canada Geese


Nov 2, 2017 in the Atticus Review




Creative Non-Fiction

Reviews / Discussions on "A Lily Lilies"
ANDY FITCH & JOSEY FOO
On March 10, 2015, Andy Fitch and I recorded

an interview on

A Lily Lilies,

which appears in The Conversant, October 2015 issue. It is part of his exploration of "interpersonal and intertextual constellations that have helped to shape the work done by Nightboat's authors, publishers and designers." Nightboat will publish Andy's interview collection with Nightboat contributors of the last decade late next year.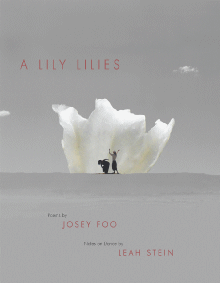 The STRANGEST OF THEATERS - poets writing across borders, McSweeney's, April 19, 2013
Edited by Jared Hawkley, Susan Rich, Brian Turner
"The Strangest of Theatres explores how poets who are willing to venture beyond our borders can serve as envoys to the wider world and revitalize American poetry in the process."
New Cartographies -- The Poet in the Word by Kazim Ali
At pages 27 -49, Kazim writes about poets between nations, genres, genders, night and day. Beginning on p. 4 he discusses how Foo and Stein present an interesting new way the abstract of "nation" can be personalized and brought into the individual body.
---



In the afterword of her gem of a book MELANCHOLIA: An Essay, Ravenna Press, 2012, Kristina Marie Darling thanks Sigmund Freud, Julia Kristeva, Judith Butler, and Foo and Stein's "A Lily Lilies."
---
by Arielle Greenberg
AMERICAN POETRY REVIEW, Sept/Oct 2012, Vol 41, No. 5
Greenberg discusses Foo and Stein's "A Lily Lilies" in the context of hybrid writing, admiring the book while exploring how lines are drawn by the authors themselves between genres, i.e. pictures v. poetry v. notes on dance and between what is literary and non-literary. . .

C
lick here
---
A Short Review of Josie Foo and Leah Stein's "A Lily Lilies"

by Jennifer K. Dick

DRUNKEN BOAT, Issue 15

A Lily Lilies is a choreographer's ledger. Replete with black and white photos which punctuate and expand the reading experience, its lines transport the reader, shift and slide them.
---
by Joseph Campana
KENYON REVIEW, March 12, 2012
Campana looks at dance poems in Lilies from an audience, not a dancer's point of view and finds the book wanting.
---

Review by Kirsten Kaschock





THINKINGDANCE, March 8, 2012



Approaching Lilies as a choreograper and dancer, Kaschock is fulling engaged, reading the book as an invitation to inhabit the in-between spaces of the world: places where words may have bodies.
---

by Merilyn Jackson

PHILADELPHIA INQUIRER, PHILLYSTAGE, March 8, 2012

Jackson writes a fond retrospective on the career of Leah Stein, well-known for site-specific and cross-genre performance.
---
Contemplative and Connected: Leah Stein's Singular Aesthetic



Dance Review by James Rutter


THINKINGDANCE, March 16, 2012


This past weekend at the Performance Garage, Philadelphia Dance Projects organized a retrospective of Stein's work to celebrate her eponymous troupe's tenth anniversary. The selections presented gave the sense of a unified aesthetic that informed more than two decades of work..
---
Sticks and Steins

Dance Review by Deni Kasrel

CITY PAPER
, March 15, 2012


Reviewing Stein's 10th Anniversary Concert, Kasrel focuses on Stein's extremely tactile approach in redefining spaces.
---
Dragonflies Draw Flame and A Lily Lilies

by Rachel Sutton Spence

In her blog, Sutton Spence contemplates movement, words and signed words in Lilies, including the Navajo approach to ownership of movement in their language as explained by Foo, allowing independent movement.
---
Artistic Synergy -- Foo's poems and Stein's dance connect in A Lily Lilies

March 4, 2011

TRI-CITY TRIBUNE, Farmington, NM

Publicizing the publication of Lilies by a local writer
---
After reading Lilies, Adrian Ryan wrote a piece of music to it the week of Feb 11, 2011 on the road to Sedona.
Click here to download:
A Lily Picked.mp3 (4.23 MB)
SAT., OCT 11, 2014 @ 10:00 AM - 11:30 AM
LOCAL AUTHOR'S FAIR
FIFTH ANNUAL LITERARY FESTIVAL
DURANGO PUBLIC LIBRARY
1900 EAST 3RD AVENUE
DURANGO, CO
Books sales through Maria's Bookshop, Durango, CO
---
MARCH 8 - 11, 2012
THU - SAT, 7:30 PM & SUN 2 PM
@ Performance Garage
1515 Brandywine Street
Philadelphia, PA

LEAH STEIN DANCE COMPANY, 10TH ANNIVERSARY
Performance w Sean Feldman, Josey Foo, Toshi Makihara, Michele Tantoco, Germaine Ingram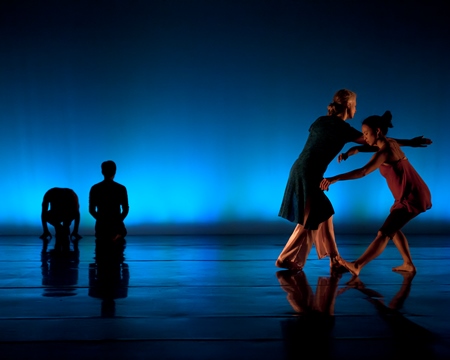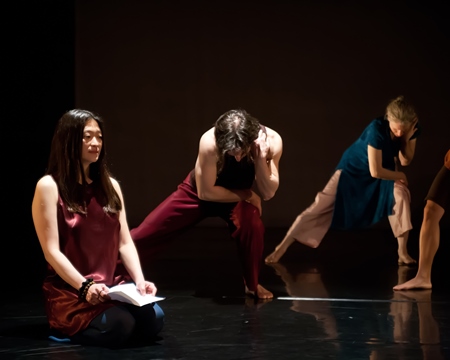 ---
TUES, MARCH 6, 2012 @ 7 PM
MOONSTONE ART CENTER
110A S. 13TH STREET
PHILADELPHIA, PA
JOSEY FOO READING FROM "A LILY LILIES" Flyer

---
2011 BOOK LAUNCH -- "A LILY LILIES"

SEPT 24 - 25, SAT-SUN, 12-7 PM
WINES OF THE SAN JUAN
233 HIGHWAY 511
BLANCO, NM 87412
JOSEY FOO & LIZ STANNARD, BOOTH

OCT 3, MON, 7:30 PM
SCHEUER ROOM AT KOHLBERG HALL
SWARTHMORE COLLEGE
500 COLLEGE AVE
SWARTHMORE, PA
JOSEY FOO & LEAH STEIN Flyer

OCT 4, TUES, 6 PM
KELLY WRITERS HOUSE
UNIVERSITY OF PENNSYLVANIA
3805 LOCUST WALK
PHILADELPHIA, PA
JOSEY FOO w LEAH STEIN, EMMA CRANDELL, LONELY CHRISTOPHER Calendar

OCT 5, WED., 7 PM
ASIAN AMERICAN WRITERS WORKSHOP
110-112 WEST 27TH STREET
NEW YORK, NY 10011
"I LIKE THE WAY YOU MOVE"
JOSEY FOO w LEAH STEIN & THE LEAH STEIN DANCE COMPANY, MONG-LAN, MISHA CHOWDURY, NABANITA PAL Calendar

OCT 7, FRI, 5-7 PM
BIG BLUE MARBLE BOOKSTORE\551 CARPENTER LANE
MT AIRY
PHILADELPHIA, PA
JOSEY FOO & LEAH STEIN
---
APRIL 8, 2011, FRI, 5-8 PM
ANDREA KRISTINA'S BOOKSTORE & KAFE
218 WEST MAIN
FARMINGTON, NM
JOSEY FOO, SIGNING, DOWNTOWN ARTWALK
---
MARCH 11, 2011, FRI, 7 PM
ANDREA KRISTINA'S BOOKSTORE & KAFE
218 WEST MAIN
FARMINGTON, NM
JOSEY FOO READING FROM "A LILY LILIES"
---
FEB 13, 2011, SUN, 3-5 PM
NIGHTBOAT BOOKS WINTER LAUNCH
POET'S HOUSE
10 RIVER TERRACE AT MURRAY STREET
LOWER MANHATTAN
NEW YORK, NY
READINGS BY THE AUTHORS, RECEPTION, SIGNING

Caroline Bergvall Meddle English
Daniel Borzutzy The Book of Interfering Bodies
Michael Burkard lucky coat anywhere
Dawn Lundy Martin Discipline
Leah Stein w Josey Foo A Lily Lilies
---
FEB 3, 2011, THU, 7-10 PM
ASSOCIATED WRITING PROGRAMS, OFF-SITE READING w NIGHTBOAT, FUTUREPOEM AND LITMUS PRESS
LARRY'S LOUNGE
1836 18TH ST NW
WASHINGTON, DC
LEAH STEIN and others
---